Methodist Pilley Institute Leo Club Charity Movie Night
MPI Leo Club successfully held a charity movie night playing documentary "The Drop Box" at the campus on 23 February to raise fund for Destiny For Children Association Sibu (Destiny Centre).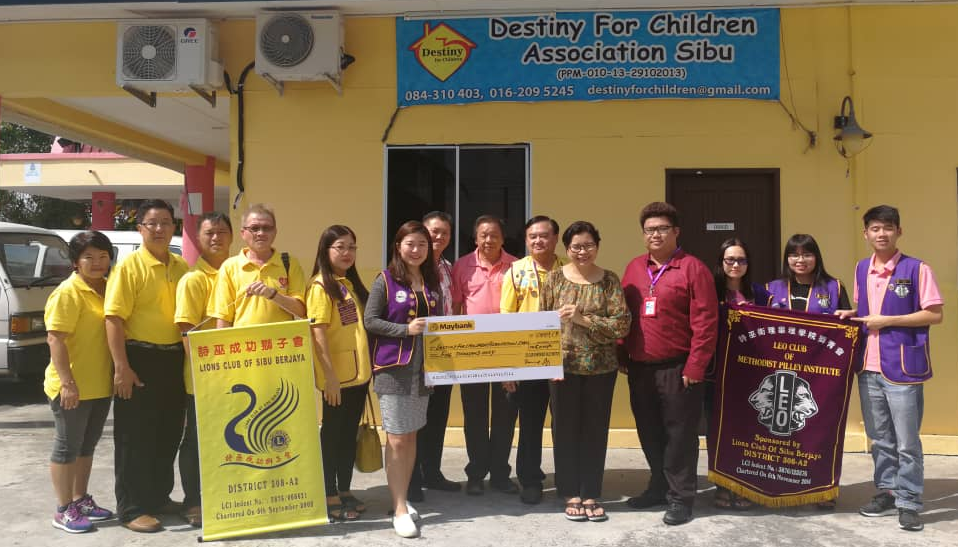 Today MPI Leo Club presents RM5,000 to the Centre in hope to increase the social awareness to ask people to give more especially to the less fortunate in our society.
These underprivileged children currently make up more than 70% children at the Centre, they are mainly stateless children, and thus are not entitled to enroll to the national schools and enjoy the same learning environment just like the others. The mission of the Centre is to break the cycle of poverty through quality education. Presently there are 105 children, aged between 6 to 16 years old, housed under primary school level.
毕理狮青会慈善电影夜
诗巫卫理毕理学院狮青会于2月23日在学院举办慈善电影夜播放"DROP BOX",其目的是将所筹款项用以资助诗巫儿童命运儿童之家的孩子们,让他们可以顺利完成最基本的教育。
毕理学院狮青会今日将所筹获马币5000令吉交给中心负责人。愿借此帮助推广慈善让我们每一位都有助人为快乐之本的心,每人付出一点,就能带来改变。
儿童之家的孩童们是属于社会中比较不幸的孩子,70%以上的学生是无国籍身份小孩,所以他们无法在政府学校像其他大多数孩子们一样学习。儿童之家的宗旨是借着优质的教育打破贫穷系统,他们目前拥有105孩子,年龄介于6到16岁,学习程度都在小学程度以内。