The Diploma of Social Work programme provides an extensive knowledge covering professional social work theories and methods as well as social work principles, values and ethics. Courses include Psychology, Sociology, Entrepreneurship, Interpersonal and counselling skills. The curriculum is designed based on the National Competency Standards for Social Work Practice (2010).
You will be equipped with social work practices and skills in diverse settings including family and child welfare, disability and elder care, health and mental health. You will also learn how to enhance the social functional of individuals, families, groups, communities and organisations by providing a variety of social interventions and supports through classroom teaching as well as practicum in relevant social agencies.
| | |
| --- | --- |
| Approval Code | (N/762/4/0049)(07/24)(MQA/FA12040) |
| Intake | May (7 semesters) , July (8 semesters) |
| Mode of Study | Full Time |
| Duration of Study | 2.75 years |
| Assessments | Examinations, Projects, Assignments |
| Tuition Fee | RM 15,300 (Malaysian students), RM 18,000 (International students) |
Pass SPM / O-Level with minimum 3 credits (C)
Pass STPM with minimum 2 Grade C (GP 2.0) 
Pass UEC with minimum 3 Grade B
Equivalent qualification on case-by-case basis
Year 1
Introduction to Professional Social Work
Introduction to Psychology for Social Workers
Social Problems and Social Needs in Malaysia
Introduction to Sociology for Social Workers
Social Work Methods I – Casework
Organisational Context of Social Work Practice
Preparation for Field Placement I
Interpersonal and Counselling Skills in Social Work Practice
MUET 1
Field Placement I
Year 2
Social Work Methods II – Group Work
Child and Family Welfare
Transferring Field Placement Learning
Drug and Alcohol Addiction
Social Work Methods III – Community Work
Social Policy and the Law and Social Work Practice
Health and Mental Health
Working with Minority Populations and Cultural Diversity
Preparation for Field Placement II
Field Placement II
Year 3
Working with Domestic Violence Concerns
Professionally Accountable Practice
Working with Older People
Working with People with Disabilities
Preparing for Graduate Practice
MPU Subjects
Philosophy and Current Issues /  Bahasa Melayu Komunikasi I *
Effective Communication / Bahasa Kebangsaan A **
Morals and Ethics
Social Work Projects
*
For international students only
**
Malaysian students who do not have a credit in their SPM Bahasa Melayu are compulsory to take this as component of U2, only once.
Our graduates can pursue potential careers in areas such as:
Assistant Social Welfare Officer
Assistant Medical Social Worker
Assistant Community Development Officer
Child & Family social worker
Community Service Worker from Churches or other religious organisations
Social Worker (in NGOs Children Home, Disabled Persons Organisation, Elderly Care Agencies)
Outreach Worker
Programme Officer
Youth Worker
Community Organiser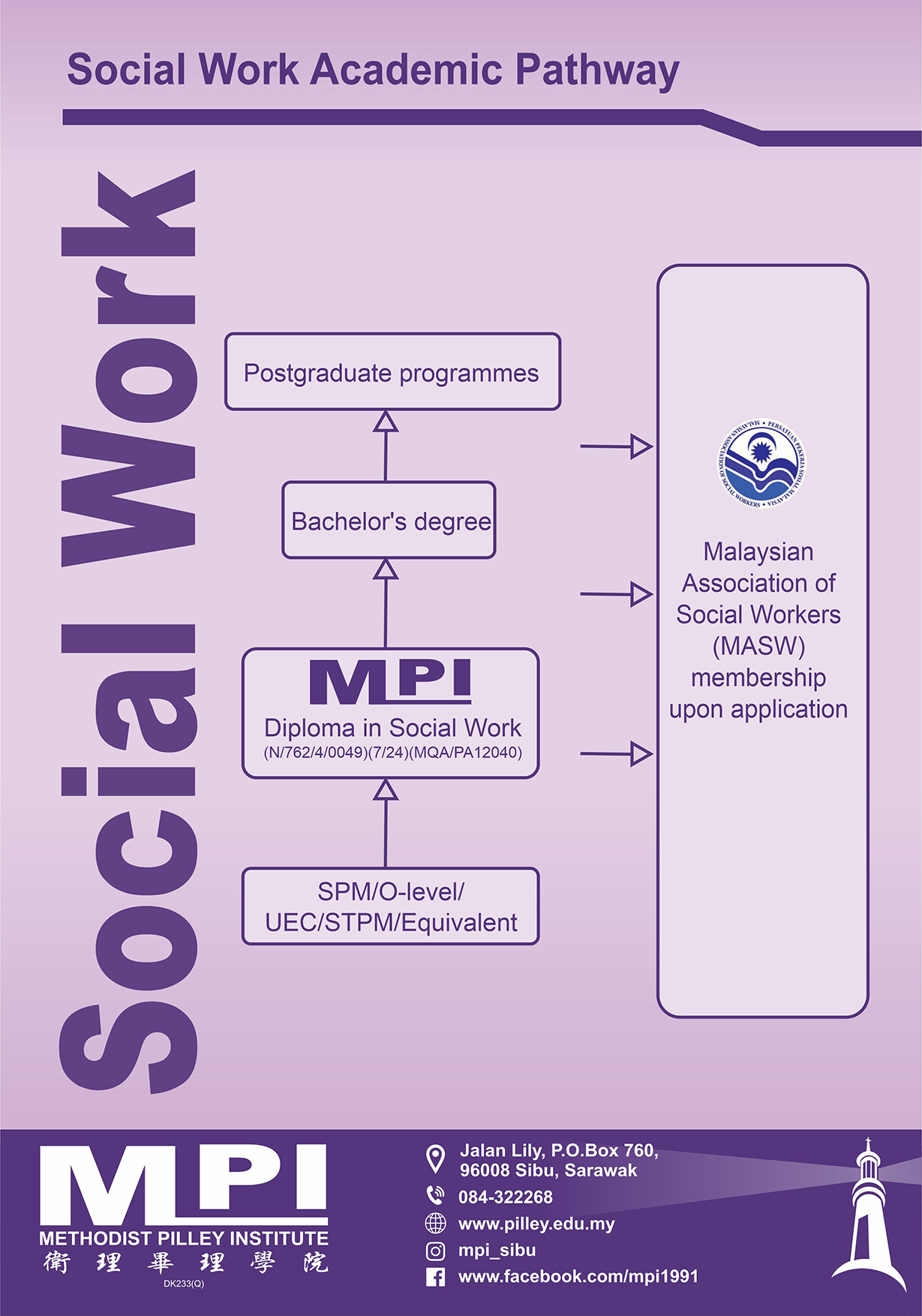 FAQs:
1. How will Diploma in Social Work be run by MPI?
The mode of delivery will be conducted with the combination of formal face-to-face, online and blended learning.
2. What is blended learning?
For blended learning, students will learn through the combination of face-to-face lecture and online media (20 percent to 40 percent of the lecture will go online).
For example,
Introduction to Professional Social Work (SWK 1013)
The credit hour for this course is 3 (that means students need to attend 3 hours of class per week). The total credit hours for one semester: 14 weeks X 3 = 42 credit hours. Let's say this course is 20 percent of face-to-face lecture per semester, which is equivalent to around 9 hours of class per semester.
3. How about the schedule of the class?
Face-to-face lectures will be conducted on Friday night and during the weekend. So students who are currently working or from outstation can also join the lectures without their working hours being affected.
4. What are the financial aids and scholarships available?
MPI has a range of scholarships available to all full time students. These are:
PTPTN Loans (only applicable to students below 45 years old)
MPI study loans
MPI Alumni Scholarship
EPF Account 2
Subsidy Scheme* (applicable to Methodist Church members through Board of Social Concerns)
*A 60 percent Subsidy Scheme is available for Methodist Church members (30% tuition fee subsidy from SCAC and 30% discount from MPI). For further information regarding the Subsidy Scheme do contact the Board of Social Concerns.
5. Who are the lecturers?
The lecturers are professionally qualified social workers who have postgraduate degrees at Master level and one PhD holder in Social Work and Social Policy. Two of the lecturer have extensive practice experience in the fields of women, children, disability and ageing, and in community and policy development work, as well as being social work  educators with Universiti Malaysia Sarawak for over 20 years.
6. Is there a hostel available for out-station students?
Yes, there is a hostel inside the campus.
7. Is the Diploma in Social Work recognized by the government?
Yes. The Diploma in Social Work is approved by MOHE and MQA. (N/762/4/0049)(7/24)(MQA/PA12040).