Our Story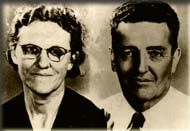 Previously Methodist Pilley Memorial Secondary School, the school was set up in 1967 to meet the needs of Form 3 to Form 5 students. Methodist Pilley Institute (MPI) was then formed in April 1991, succeeding the secondary school, in response to changes of educational policies.
As American missionaries, both Mr and Mrs Pilley were born and raised in China, they served in Fuzhou (capital of Fujian province) until the day they were forced to leave the country in 1949, the time when Communists came into power.
When they arrived in Sibu, they served selflessly and wholeheartedly to establish schools and churches. When Mr Pilley was the principal of Methodist Secondary School (1949-1952, 1958-1960), Mrs Pilley dedicated all her time to reach out and help countless underprivileged ones to receive their education. In the same period of time, Mrs Pilley also set up Methodist Children's Home in Sibu, the first children shelter in town, 1951.
1960 Mr Pilley died from heart attack, and was buried in Sibu. Mrs Pilley left to Nashville, Tennessee in States where she lived until the last day of her life on 11 July 2002. Their daughter, Dr Gail Pilley Harris brought her mother's ashes back to Sibu to be buried with her father.
Even though Mr and Mrs Pilley spent only 11 years in Sarawak, the profound impact they left to Sibu and Sarikei was extremely significant, that in 1967 when the Board of Education of the Methodist Churches in Sarawak met to build a private Methodist Secondary School in Sibu, they all agreed unanimously to name the school after Pilley in remembrance of his enormous contribution to Sibu.