Presentation of Certificate of Achievement to CAT students & Scholarship and Scholastic Awards to High Achievers
Methodist Pilley Institute (MPI) presented the certificate of achievement to 6 students who have completed ACCA's CAT programme within 1 year and 6 out of their 9 CAT examinations result pass rate is above global pass rate. These six students are Alice Ting Ming, Cho Hui Zia, Elaine Ting Yee Ling, Jin Yiling, Lim Pei Sze, Lim Pei Yi.
The CAT (Certified Accounting Technician) UK qualification is part of the foundation level qualifications of the Association of Chartered Certified Accountants (ACCA). On completion of the CAT Qualification, students can then progress into the ACCA Qualification. The CAT is thus an introductory qualification in accountancy prior to training to become a Chartered Certified Accountant through the ACCA Professional Scheme. It usually takes one and a half years to complete the nine CAT exams.
In addition, Methodist Pilley Institute also awarded the 100% Entrance Scholarship and Scholastic Awards to outstanding students in SPM, and Diploma students from the Multimedia University and Fajar International College for them to enrol in ACCA qualification programme, CAT qualification programme, Diploma in Business Management programme, Diploma in Business Information Systems programme, Diploma in Early Childhood Education programme and Diploma in Accounting programme.
The following are their results and the programmes they have enrolled:
| | | |
| --- | --- | --- |
| 100% Entrance Scholarship | Result | Programme Enrolled |
| Tiong Wei Xuan | Diploma in Accounting from Multimedia University | ACCA qualification |
| Chai Wei Yi | Diploma in Accountancy from Fajar International College | ACCA Qualification |
| | | |
| --- | --- | --- |
| Scholastic Award Rrecipient | SPM Result | Programme Enrolled |
| Grace Tong Chung Ci | 8As | Diploma in Early Childhood Education |
| Yii Siew Yieng | 8As | Diploma in Business Information Systems |
| Betty Loh Siao Wei | 6As | Diploma in Business Management |
| Augny Tang Xiao En | 6As | Diploma in Accounting |
| Teng Din Din | 6As | Diploma in Accounting |
| Nge Jai Jai | 5As | CAT Qualification |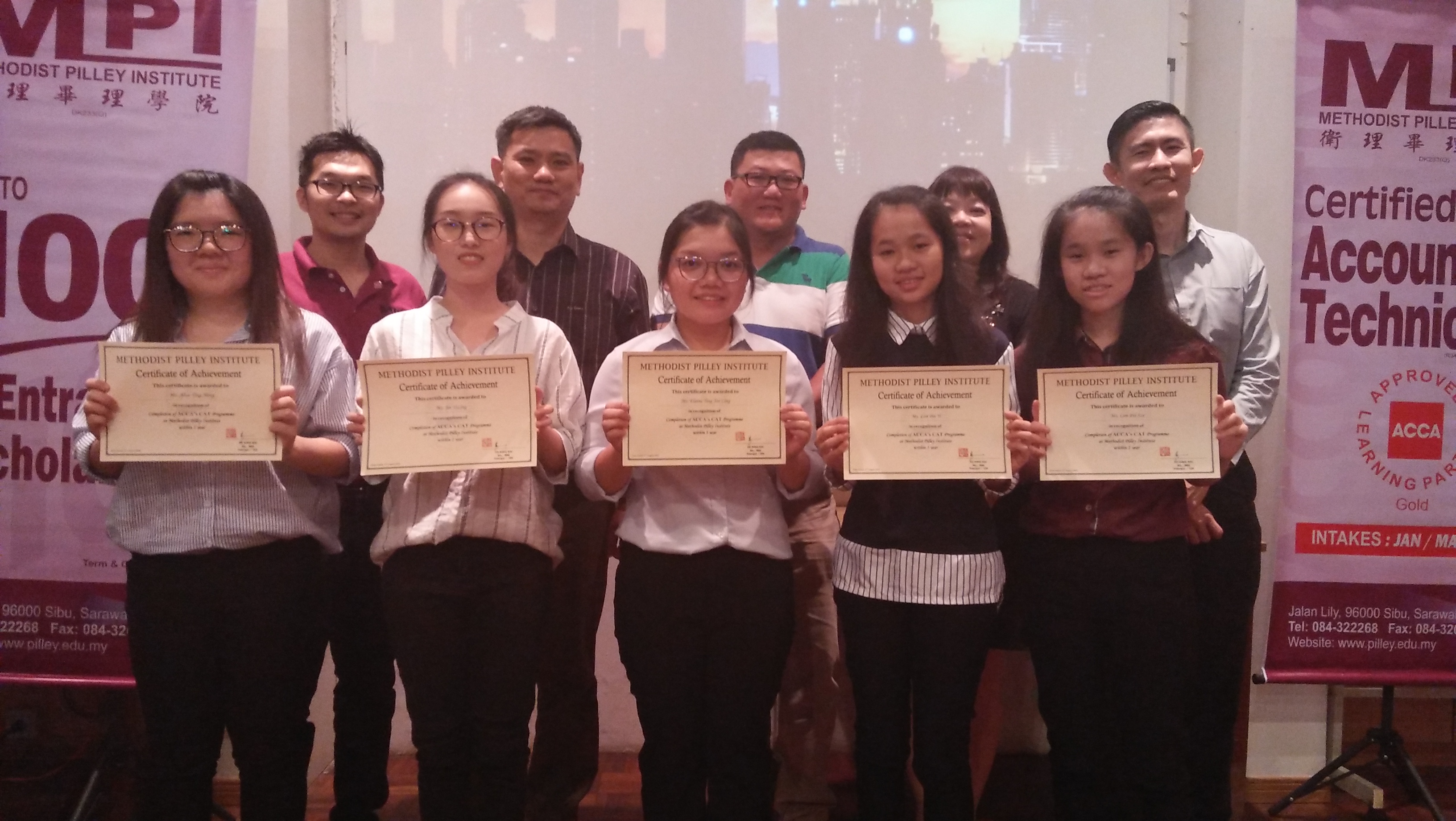 ▲ Group Photos of students receiving certificate of achievement with Principal and lecturers (Front row: Alice Ting Ming, Jin YiLing, Elaine Ting Yee Ling, Lim Pei Yi, Lim Pei Sze)

卫理毕理学院颁发成就证书,100%入学奖学金和学业优异奖
卫理毕理学院(MPI)向6名在1年内完成CAT课程的学生颁发成就证书。这六位学生是陈敏、朱慧洁、陈怡伶、金依灵、林佩诗、林佩仪。 CAT课程(国际会计技师资格证书课程)是英国特许公认会计师公会(ACCA)的基础课程。 完成CAT课程后,学生可以升读ACCA课程。
另外,卫理毕理学院也颁发100%入学奖学金和学业优异奖给8在马来西亚教育文凭SPM考试成绩优异生,当中也包括来自多媒体大学和Fajar International College的文凭课程的考试成绩优异生,在毕理学院修读特许公认会计师资格证书课程(ACCA)、国际会计技师资格证书课程(CAT)、商业管理文凭课程、商业信息系统文凭课程、幼儿教育文凭课程或会计文凭课程。
以下是得奖者及他们的成绩:
| | | |
| --- | --- | --- |
| 100%入学奖学金得奖者 | 考试成绩 | 课程 |
| 张玮玹 | 多媒体大学 | 特许公认会计师资格证书课程(ACCA) |
| 蔡潍翊 | Fajar International College | 特许公认会计师资格证书课程(ACCA) |
| | | |
| --- | --- | --- |
| 学优奖得奖者 | 考试成绩 | 课程 |
| 汤仲慈 | 8As | 幼儿教育文凭课程 |
| 俞秀燕 | 8As | 商业信息系统文凭课程 |
| 罗晓薇 | 6As | 商业管理文凭课程 |
| 郑孝恩 | 6As | 会计文凭课程 |
| 陈婷婷 | 6As | 会计文凭课程 |
| 倪佳佳 | 5As | 国际会计技师资格证书课程(CAT) |