ACCA Day 2018
Methodist Pilley Institute in partnership with ACCA (the Association of Chartered Certified Accountants) Malaysia is organizing ACCA Day on 18 August 2018 (Saturday) from 8:00am to 1:00pm, with the aim to instil an interest in the studies of accounting, and to create awareness of the accountancy profession among all SPM students who are taking the "Prinsip Perakaunan" subject. The event is approved by Ministry of Education Malaysia, Jabatan Pendidikan Negeri Sarawak and Pejabat Pendidikan Daerah Sibu.
This is in line with the National Economic Transformation Programme that Malaysia needs at least 60,000 qualified accountants by 2020. MPI and ACCA Malaysia are pleased to support Malaysian Government's efforts to produce sufficient professional accountants.
The highlights of the event are the SPM "Prinsip Perakaunan" Exam Technique Workshop conducted by an experienced educator and also an examiner from Pulau Pinang, En Sri Ram Bilangwaty to better prepare Form 5 students sitting for "Prinsip Perakaunan" exam this year, and the Inter-school Accounting Quiz Competition to further enhance their accounting knowledge.
There will be 248 SPM students and 16 teachers from 13 schools joining the event, namely SMK Methodist, SMK Kai Chung, SMK Lanang, SMK Kwong Hua, SMK Bandar Sibu, SMK Chung Hua, SMK Deshon, SMK Kampung Nangka, SMK Tiong Hin, SMK St. Elizabeth, SMK Rosli Dhoby, SMK Tung Hua, and SMK Bukit Lima.
All students and teachers joining ACCA Day are to report at MPI admin office for registration at 7:30am. The event will start at 8:00am. For enquiry, please contact person-in-charge Mr Bobo Wong at 084-322268 or 0138110323.
Photos Caption: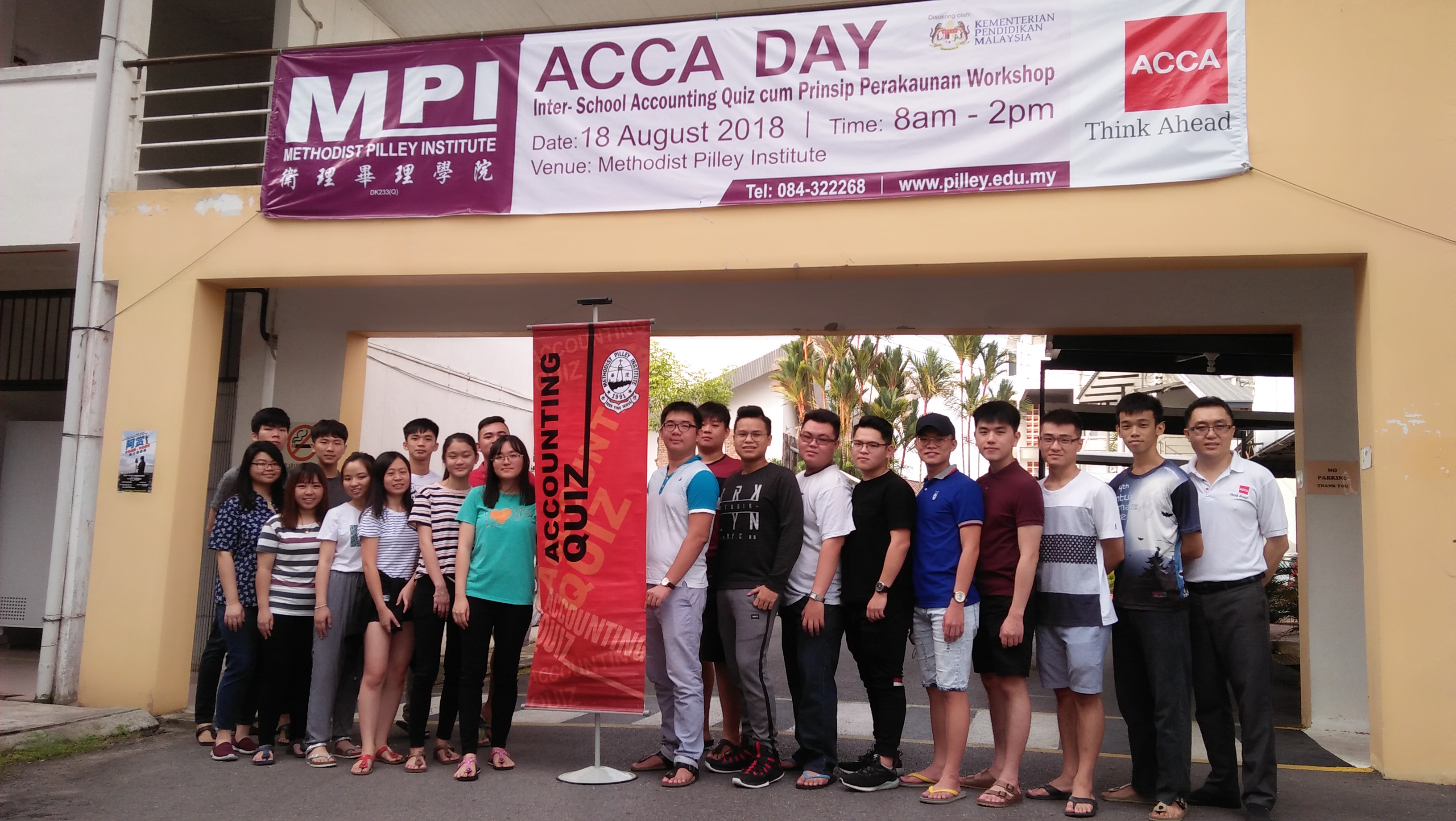 ▲ Organizing Committee to ACCA Day 2018
卫理毕理学院与英国ACCA(特许公认会计师公会)合作,于2018年8月18日 (星期六), 上午8点到下午1点,联合举办ACCA Day,旨在使有选修和报考"Prinsip Perakaunan"课目的SPM Form 5学生培养对会计学的兴趣和建立对会计专业的认识。 该活动得到了马来西亚教育部,砂州教育部和诗巫教育厅的批准。
这也是符合国家经济转型计划,即到2020年马来西亚需要至少60,000名合格会计师。 卫理毕理学院与英国ACCA(特许公认会计师公会)希望通过此项活动积极响应马来西亚政府致力于培养足够的专业会计师的努力。
本次活动的亮点是由经验丰富的教育工作者,也是来自槟城的考官Sri Ram Bilangwaty 主讲SPM "Prinsip Perakaunan"考试技巧工作坊,以更好地为今年参加"Prinsip Perakaunan"考试的SPM Form 5学生做准备。 此外,当天的校际会计测验竞赛也进一步提升他们的会计知识。
将有来自13所中学的248名SPM学生和16名教师参加ACCA Day,即SMK Methodist,SMK Kai Chung,SMK Lanang,SMK Kwong Hua,SMK Bandar Sibu,SMK Chung Hua,SMK Deshon,SMK Kampung Nangka,SMK Tiong Hin,SMK St. Elizabeth,SMK Rosli Dhoby,SMK Tung Hua和SMK Bukit Lima。
所有参加ACCA Day的学生和老师必须在当天上午7:30在卫理毕理学院的办公室报到。 该活动将于上午8:00开始。 如有查询,请致电084-322268或0138110323与Bobo Wong先生联络。