Mar 28 A-Level Programme
The Pearson Edexcel A-Level Programme at Methodist Pilley Institute (MPI) here opens up another option for students and parents in their education plans.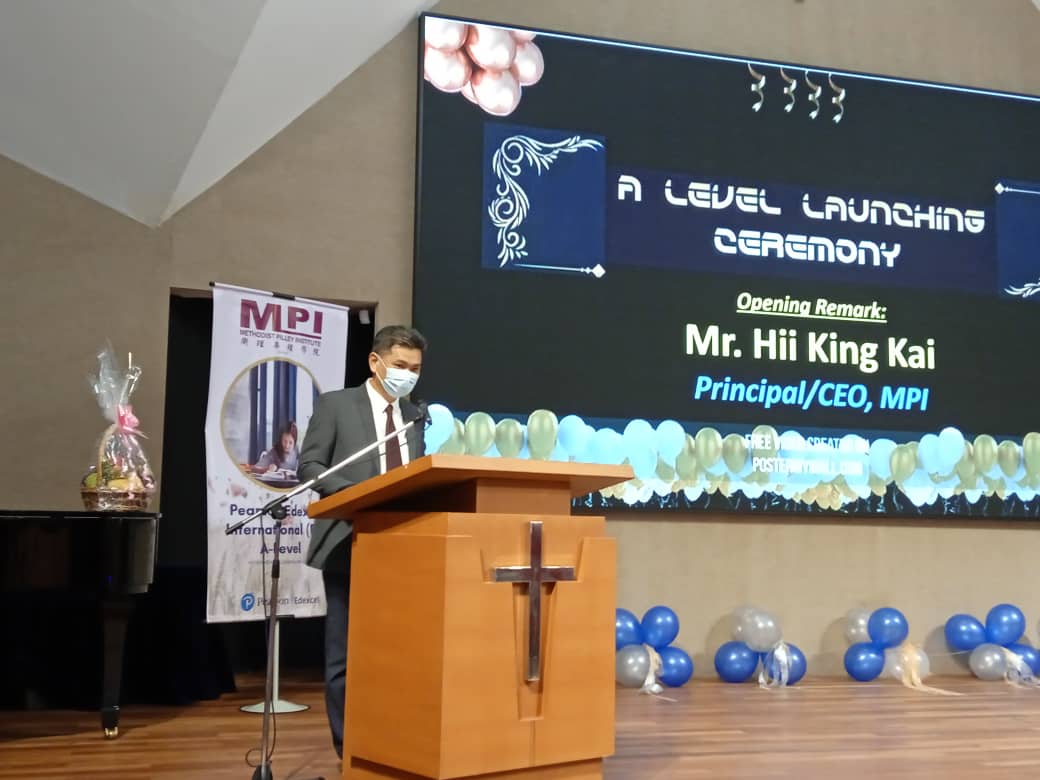 In pointing this out, MPI chief executive officer cum principal Hii King Kai describes this as an option that is close to home – one that offers peace of mind, especially to parents amidst all the uncertainties brought about by the Covid-19 pandemic.
"Today, we gather here to launch the Pearson Edexcel ALevel Programme. The selection of subjects that we offer is specially-designed to prepare students towards continuing their degree studies in business and arts, and in particular, law.
"The offering of A-Level at MPI is timely as it allows students to prepare themselves for university studies, while waiting for the sky to open up, or while they continue to explore their future career pathways.
"Hopefully, by the time they complete A-Level, the situation would be much better. "In addition to helping them pass their exams, we would also open to them many opportunities to explore the various types of professions that they can choose from so that they could make better decisions for themselves," he spoke at the launch of the ALevel programme at Wei Kuok Hall here on Saturday.
Guest-of-honour Senator Robert Laŭ officiated at the event.
Adding on, King Kai acknowledged that even after one year of being under lockdown, people were still craving 'the human touch'.
"Yes, students would still be receiving education; they would still pass their exams; even if the lockdown had continued, they would still graduate.
"However, I feel that the students are missing a big chunk out of the whole vital learning experience – namely, the learning of soft skills and having that personal connection that eventually, would become the most critical skills that they would need to succeed in life," he elaborated. – In this regard, he said MPI would strive to commence the face-to-face classes this May – starting with the degree students.
"Then by June, we hope all students would have already returned." For the event, MPI chairman Paul Wong delivered his speech, which was broadcast via Zoom
Former chairman Wilson Chang Jih Ren also delivered a special address at the event, which also hosted MPI honorary chairman Hii Ching Chiong and vice-chairman Dr Peter Tang.
Pearson Edexcel International Advanced Level is globally-recognised advanced qualification with its modular structure enabling students to enrol for three subjects – Law, Accounting and Economics.
Its A-Level qualification opens door to some of the world. renowned universities such as University of Oxford, University of Cambridge, Yale University, University of Sydney, University of Auckland, University of Canterbury. University of Otago, University of Hong Kong, University of Tokyo, University of Science and Technology of China. National University of Singapore, and also more local tertiary educational institutions such as the International Medical University, Swinburne University of Technology Sarawak Campus, Universiti Sains Malaysia, Universiti Malaysia Sabah, and UCSI University in Sarawak.