"Dean's List" Certificate of Academic Excellence
There are 46 degree students from Methodist Pilley Institute, awarded "Dean's List" Certificate of Academic Excellence by UCSI University – 40 for BA (Hons) Accounting, 6 for BA (Hons) Marketing. To get oneself on the Dean's list a commendable achievement, a student has to score at least 3.50/4.00 for the UCSI Degree programmes which is not an easy task!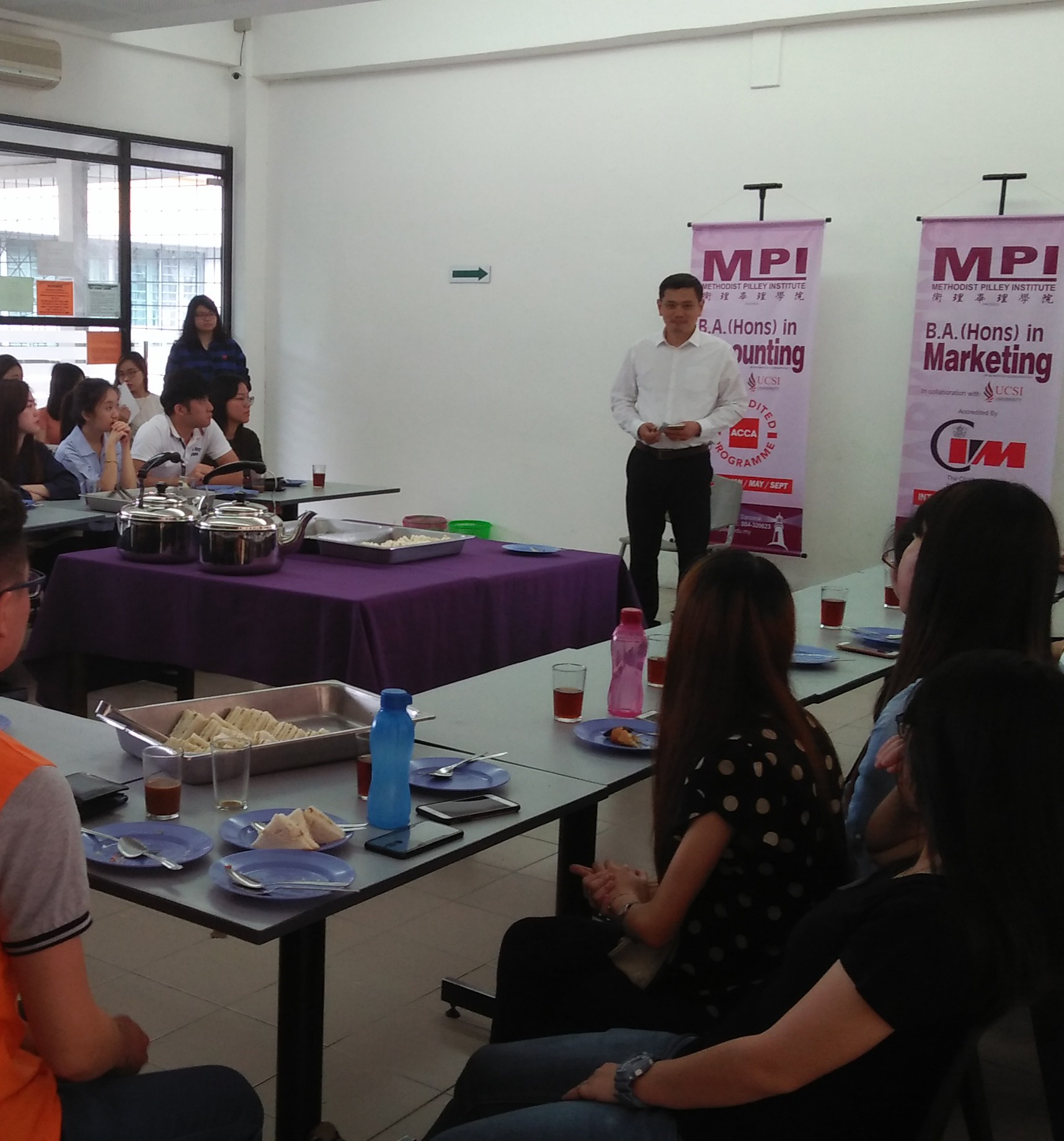 The principal Mr Hii King Kai has reminded the students that good academic results is no guarantee to a better job and will ensure a life that'll be happy ever after. However he encouraged the students to strive to cultivate better character traits such as diligence, responsibility and attentiveness. Through taking part in societal and community projects and events on and off campus and reaching out to people, one will live a more fulfilling and meaningful life. "Put into best use of time & resources that you have, focus on what you can learn, and what you can contribute. Continue to add values to yourselves," encouraged by the principal Mr Hii King Kai.
MPI, through collaboration with UCSI University, has provided quality programmes. Recently, UCSI University has been ranked by QS Ranking as the top private university in Malaysia. And, MPI, with strong backing from the Methodist church, will continue to strive for better facilities and better quality teaching & learning process.


▲ Group photo of the recipients of "Dean's List" Certificate of Academic Excellence
"Dean's List"学术卓越奖
卫理毕理学院的46名学生获得UCSI大学颁发"Dean's List"学术卓越奖 – 其中40名来自会计学荣誉文学士课程,6名来自市场营销学荣誉文学士课程。 获得"Dean's List"学术卓越奖一个项值得称赞的成就,学生必须考获平均成绩3.50 / 4.00,这不是一件容易的事。
院长许钧凯提醒学生,良好的学业成绩并不能保证能获得更好的工作,也不能确保一个人的生活会过得幸福。 他鼓励学生们努力培养好的品格特征,如勤奋,尽责和专注。 通过参加校内外的活动服务社会,让自己过上更充实和更有意义的人生。 许院长敦促学生们:"当学以致用和发挥所长,努力服务社会,也不要忘记不断的自我提升。"
卫理毕理学院通过与UCSI大学的合作,在诗巫提供了优质的学士学位课程。最近,UCSI大学被世界大学QS排名列为马来西亚最顶级的私立大学。卫理毕理学院在卫理公会的大力支持下,将继续努力争取提供更好的设施和更优质的教学。