Pilley Heritage Run 2018
The Alumni Association of Methodist Pilley Institute is organizing the 3rd Pilley Heritage Charity Run 2018 on 23 June 2018 (Saturday) with the aim to raise scholarship funds to assist financially needy students to pursue tertiary education at the Institute. The flag-off ceremony will be officiated by Guest of Honour, YBhg. Datuk Tiong Thai King, the member of Dewan Undangan Negeri Sarawak cum Chairman of Sibu Municipal council. at 5:30am to 6:00am.
The programme of the charity run is as follows:
Time
Particulars
3:30am
21km Runners' Reporting Time
4:00am
21km Flag Off
5:00am
10km Reporting Time
5:15am
Zumba Warm –up
5:30am
10km Flag Off/ 5km Runners' Reporting Time
6:00am
5km flag-off
7:00am
Cut-off time for 5km Run
5:30am
Cut-off time for 10km Run
7:30am
Cut-off time for 21km Run
8:30am
Closing Ceremony & Prize-giving
The event has 6 categories for both men and women participants, i.e. 5km, 10km, and 21km. The flag-off time of 21km will be at 4:00am; 10km Run at 5:30am; 5km at 6:00am.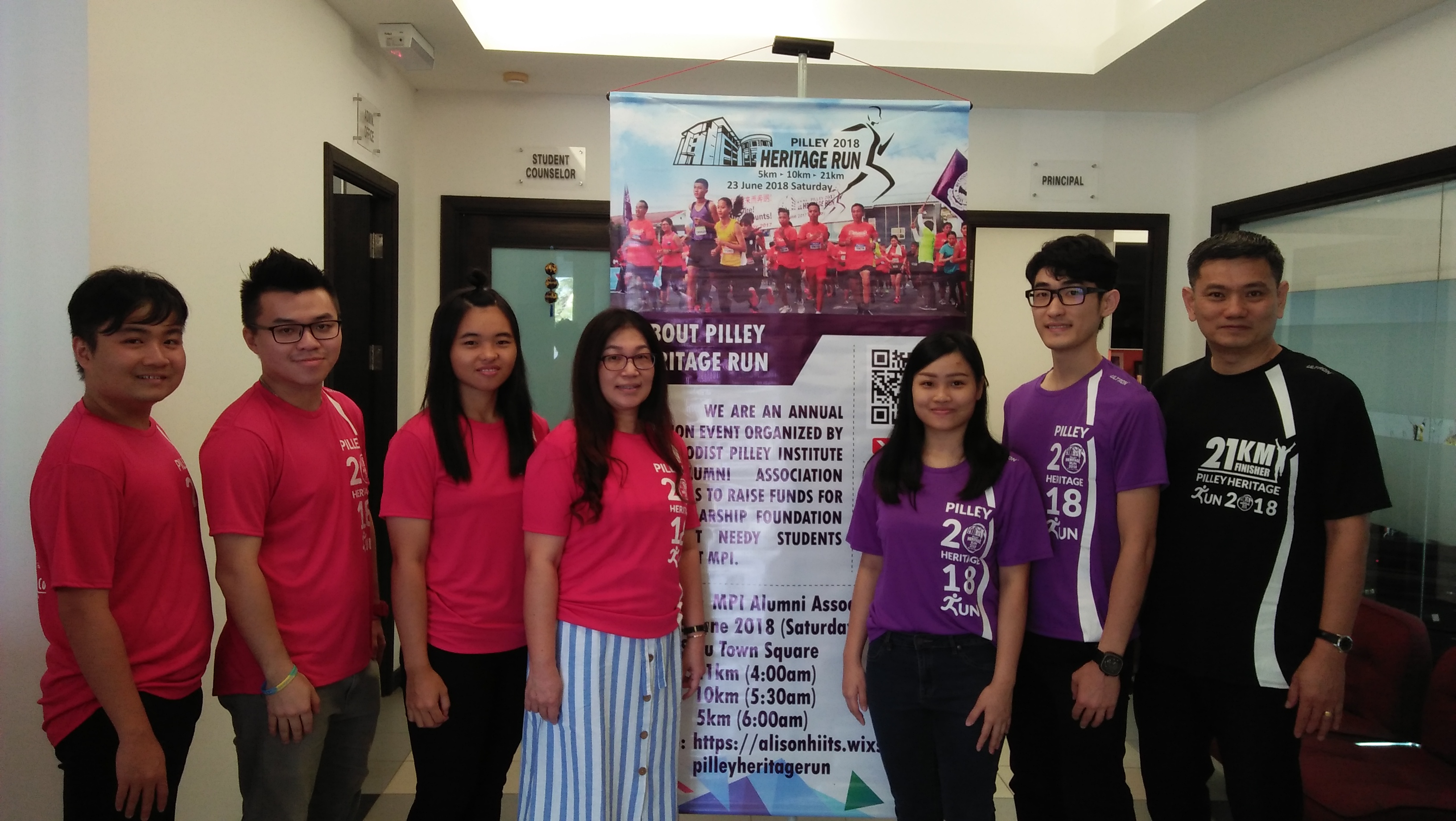 Methodist Pilley Institute is a not-for-profit higher learning institution, and it is the oldest in Sarawak. Majority of its students are from the lower to middle income families. As a not-for-profit institution, MPI hopes that such scholarship fund will help change the lives of young people, which in turn will contribute positively towards the welfare of their families and the society in the long run. Besides, the Run will help to promote a healthy and active lifestyle.
Mr. Hii King Kai, the principal of Methodist Pilley Institute urged that members of public to take part in the Run to collectively raise funds for the needy students. Registration fees and donation received will be utilized to fund the event, and contribute toward the scholarships. Registration form is available online and from the Admin Office at the Institute.
So far there are about 550 hundred runners participating in the charity run. All runners are to report themselves at the starting point at least 30 minutes before flag-off time. Collection of racekits will be on 21 & 22 June 2018 (Office Hours) at Methodist Pilley Institute (Admin Office). Any enquiry, please contact Alison Hii at 084-322268.
2018卫理毕理学院校友会第三届筹款义跑活动
卫理毕理学院校友会将在2018年6月23日(六)举办第三届筹款义跑活动,该筹款义跑活动旨在筹集奖学基金,以帮助经济困难的学生在该学院接受高等教育。诗巫市议会主席拿督张泰卿州议员将在5:30am至6:00am主持起跑仪式。
节目如下:
时间
细节
3:30am
21公里跑步者报告时间
4:00am
21公里起跑
5:00am
10公里跑步者报告时间
5:15am
热身
5:30am
10公里起跑/ 5公里跑步者报告时间
6:00am
5公里起跑
7:00am
5公里跑步的截止时间
5:30am
10公里跑步的截止时间
7:30am
21公里跑步的截止时间
8:30am
闭幕式暨颁奖
比赛共分成6个组别,分别为男女5km,10km及21km。 比赛当日,21km的起跑时间为4:00am,10公里的为5:30am,而5km的起跑时间为6:00am。
毕理学院乃一所非营利的大专,也是砂州历史最悠久的学府。大多数的学生都来自中下阶级的家庭。 因此,学院希望可以透过从义跑所筹得的款项用以改善这些学生的生活,进一步祝福他们的家庭和社会。 此外,学院也期望藉着这个义跑活动,向社会大众推广健康和活跃的生活方式。毕理学院院长许钧凯呼吁社会大众积极参与此项有意义的活动。所有收到的报名费和捐款都将用以支付此活动的费用及作为奖学金用途。
到目前为止,大约有550名参赛者参加这项筹款义跑活动。所有参赛选手务必在出发时间前至少30分钟在出发点报到。主办单位温馨提醒所有赛跑者在2018年6月21日和22日(办公时间)在毕理学院(办公室)领取长跑套件(Racekits)。若有任何疑问,请致电084-322268,向Alison Hii查询。